Maryville Roofing Contractor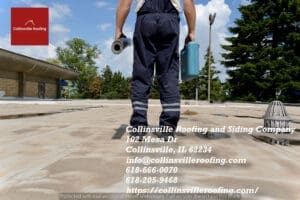 Maryville Roofing
Customers searching for a Maryville Roofing Contractor know who to call - Collinsville Roofing and Siding Company! Are you in need of professional roofing services in Maryville, IL? Look no further than our certified pros. Our friendly roofing experts and vinyl siding pros have built new roofs all over Maryville and installed siding on many of the houses you drive past every day. If you're in need of a new roof, roof replacement, roof leak repair, help with hail damage inspections, insurance claims, new siding installation, siding repair, gutter installation or gutter repair, please give us a call at 618-666-0070. With over 30 years of experience in the business, our pros provide customers with the absolute highest quality service available in Maryville and the surrounding areas in Illinois. Please give us a call today and let us show you why Collinsville Roofing and Siding Company is the #1 Roofing Contractor and Siding Contractor in the Metro East!
Roofing Contractor Maryville
Collinsville Roofing and Siding Company is here to meet your needs in the Metro East. We specialize in repairing roof leaks, upgrading old roofs with new materials, and performing total roof replacements as needed.
Has your home been damaged by a wind or hail storm? Collinsville Roofing and Siding Company can help you get your roof fixed, and often insurance will cover the costs. We are licensed, bonded, and insured local roofers who have been in business for years,
Roof Company Maryville IL
Our friendly, reliable roofing contractors are experts at Roof Installation, Shingle Repair, Shingle Replacement, Vinyl Siding Installation, Siding Repair, and more. If you're struggling with a leak, be it due to a leaky skylight, broken shingles, or damaged flashing, call our friendly roofing
EMAIL:
info@collinsvilleroofing.com
PHONE:
618-666-0070
618-205-9468
HOURS:
Monday-Friday
7:30AM-5:00PM
---
Maryville, IL
The village of Maryville is located in Madison County, IL, and is home to Villa Marie Winery, Anderson Hospital, and (our favorite) Bobby's Frozen Custard. Maryville is a great place to live and work, and we are happy to have our home office housed in the Executive Plaza in town. We understand the pride residents and business owners take in our community, and we are committed to beautifying and raising the property values of our client's homes and business in Maryville. If you'd like to work with a local contractor who is licensed, insured, and committed to the well-being of the Maryville community, please give us a call today at 618-666-0070
We thank you very much for your business, and look forward to speaking with you soon!