Flat Roof Builder in Collinsville, IL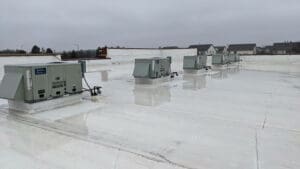 In the market for a flat roof in Collinsville or the surrounding areas? Collinsville Roofing and Siding Company is the #1 flat roof installer in the Metro East, and we have the experience and reputation to prove it.
We understand as a business owner your flat roof is an tremendous investment, and we respect that. At Collinsville Roofing and Siding we take pride in our expertise as excellent roofing professionals. Our work is of the finest quality, and our prices are competitive.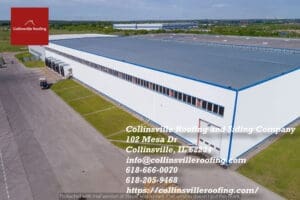 Commercial & Industrial Flat Roofing Experts
We offer a variety of roofing options for customers in Illinois including:
EPDM Roofing - EPDM is a rubber roofing membrane that covers the expanse of your roof When you use this material for your commercial roofing installation, you are utilizing a substance that is UV resistant, impact resistant, and flexible enough not to be damaged by the extreme temperature changes present in Illinois.
PVC Roofing - PVC is a great material to use for your commercial roof. A PVC roofing installation provides a PVC membrane for your roof that is durable, flexible, and will last. Many customers love the PVC option because the white color reflects UV rays.
TPO Roofing - thermoplastic polyolefin is a lightweight roofing material that will cover the expanse of your roof. TPO is affordable, low-maintenance, and a great flat roofing option.
Modified Bitumen Roofing - Modified Bitumen Roofing consists of a polymer material that is rolled out in sheets. Seams are then melted together to provide protection against moisture. Using this kind of material on your flat roof will provide a long-lasting high quality roof solution for your business.
... and more!
Flat Roof Installation or Repair in Collinsville, Granite City, Maryville & Surrounding Areas
When considering a new roof installation, roof repair, or roof replacement in Collinsville, IL, please give us a call and let us provide you with a free consultation regarding your project. Give us a call at 618-666-0070 or fill out the free quote form on this website.