Emergency Roof Repair Services Collinsville IL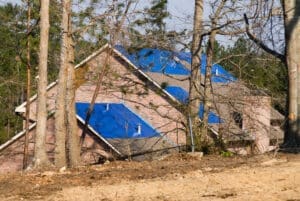 Roof Tarp Installation Collinsville, Maryville, Glen Carbon
Are you in need of Emergency Roof Repair in Collinsville or the surrounding areas? Are you in need of emergency roof leak repair in Maryville, Glen Carbon, or Pontoon Beach? If you're experiencing a roof leak, that time to act is now. A roof leak can cause severe damage to your home if left untreated. Moisture rots wood, attracts pests, and can cause mold damage to your home or business.
If your roofing has been damaged by a recent storm, whether hail, wind or heavy rain, give the pros a call at Collinsville Roofing and Siding Company. Our team will act quickly to fix your roof, make that leak go away, and we'll replace any damaged material. Our emergency roof repair services include tear out, new roof installation, checks for additional damaged caused by moisture or roof rot, and customer satisfaction is guaranteed.
Emergency Roofer in Illinois
Collinsville Roofing and Siding Company connects you with experienced roofing contractors and roof repair professionals who will treat your project with the care and concern it deserves. We know dealing with a roof leak can be stressful. That's why we remove the stress from your repair with our professional Roof Repair and Roof Tarping Services.
If you'd like to get a Free Quote on repair today, get a Roofing Inspection, have us check for hail damage, or if you simply need that pesky roof leak to go away, give our friendly pros a call at 618-666-0070
Emergency Roof Tarping
Our roofers are standing by to speak with you now. Give us a call and let us take care of that Roof Leak for you. A leaky roof is nothing to mess around with. Letting a roof leak go will not make your situation better. If your roof is leaking, it needs to be fixed immediately. Don't wait - call today and let Collinsville Roofing and Siding Company fix your roof for you, or install temporary tarping to ensure damage does not continue while a more permanent solution is found.